Observe

Lifestyle Medicine


in Action

A Unique Four-Week Adventist Training for Healthcare Providers
Lifestyle Medicine Observer Program
Is a 4-week training program for Healthcare Providers such as MD, DO, FNP, PA, RN, PT, nutritionist or other allied health professionals.
Practice medicine the way you have never done before. Focus on lifestyle change to reverse disease, and natural remedies with less side effects than conventional medicine. Incorporate Christ into your practice, the true source of health and healing.
Lifestyle Medicine
The only way to reverse coronary heart disease, hypertension, type 2 diabetes, obesity, and other diseases.
Natural Remedies
Learn how to safely use natural remedies, such as herbs, teas, hydrotherapy, massage, activated charcoal, clay, and many more to treat various illnesses.
Spiritual Care
Discover how you can incorporate your faith into your practice, and provide spiritual healing for those who long for truth.
Four-Week Training
in Lifestyle Medicine
Training Through Practice
The Lifestyle Medicine Observer Program offers hands-on training in lifestyle medicine, natural remedies, culinary coaching, hydrotherapy, and botanical treatments that you can offer your patients. All these practical classes are offered on the premises of Wildwood Lifestyle Center.
Shadow a Medical Provider
One of the best ways to learn lifestyle medicine is through observing those who practice it. Part of the Observer Program is shadowing various medical providers as they prescribe natural remedies and lifestyle change to real patients who walk into the Wildwood Clinic. Our providers include licensed medical doctors and nurse practitioners. The rest of our team includes masseurs, hydrotherapists, licensed mental health counselors, chaplains, a nutritionist, and lifestyle coaches.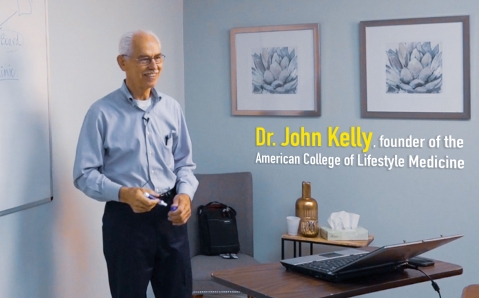 Customized Guest Lectures
Depending on your specific interests, our team works to invite leaders and pioneers in lifestyle medicine and natural remedies. They can answer your questions and share invaluable experience during guest lectures.
Surrounded by Nature
Wildwood Health Institute's campus is positioned in between Lookout Mountain and Raccoon Mountain that both provide beautiful places for recreation. Wildwood's own campus also has miles of beautiful hiking trails available for anyone residing on its premises.
Alumni From Around the World
Watch testimonials from our alumni as they share their experience with the Lifestyle Medicine Observer Program.
Graduates From Summer 2019
What We Offer in Our Classes
Whole food plant-based nutrition
Study lifestyle medicine from evidence-based data
Culinary coaching and nutrition
Adventist psychotherapeutic methods that bring about lifestyle change
Learn what God's calling is for you as a medical missionary
Management methods of lifestyle centers
Day-by-day reversal of diabetes, hypertension, heart failure, depression, and many other diseases
Lifestyle medicine in Scripture
Lifestyle medicine consultations by licensed physicians
1
Apply
Call or email us and we will evaluate with you your best options to get trained.
2
Contact
Live the full Wildwood experience by choosing to include room and board with your stay.
3
Learn With Us
We will work with you to customize your experience at Wildwood. Come with your questions and your most thought-provoking ideas!
4
Graduate
At the end of your stay you will leave with a certificate of completion, a training package, the ability to bring your medical practice to a whole new level, and an unforgettable experience that will always be engrained in your memory.
75+

Years of Experience

Wildwood Lifestyle Center has been a global leader in lifestyle medicine and natural remedies for over 75 years. Our experienced medical team is trained to deal with major communicable and non-communicable illnesses. We don't just treat symptoms, but actually look for the root of the issue, and prescribe lifestyle change if that is the reason for the illness. We prescribe natural remedies and herbal medicine instead of conventional medicine whenever possible, leaving our patients with less side effects and often more positive results.
A. Scott Grivas, Jr., MD
Dr. Grivas has pioneered and taught lifestyle medicine and natural remedies since 1989. With an early dedication to the Lord and to a missionary approach of medicine, Dr. Grivas witnessed and mentored the growth of several lifestyle centers across America, Europe, and Asia.
Aysha Inankur, MD, FACE
Dr. Inankur graduated from medical school at Loma Linda University and completed residency and chief residency in internal medicine at Kettering Medical Center. She finished endocrinology fellowship at the University of Kentucky. Dr. Inankur is triple board certified in internal medicine, lifestyle medicine and endocrinology, and diabetes ​and metabolism. She holds memberships in the Endocrine Society and the American Association of Clinical Endocrinologists.
Viktorija Rimko, FNP, RN
Inspired by missionary lifestyle medicine in her early twenties, Viktorija became a Family Nurse Practitioner (FNP) at Southern Adventist University. She has volunteered in numerous relief and missionary ministries. Wildwood is, for Viktorija, the answer to her early thirst for lifestyle medicine.
Roby A. Sherman, MD, RN
Dr. Sherman's ties to Wildwood date back to the 1950s when she was trained in missionary nursing by Elder Frazee's team (one of the founders of Wildwood). Later she studied medicine at Montemorelos University in Mexico. She has co-hosted more than 200 programs on 3ABN TV about natural remedies and lifestyle medicine. She has practiced medicine at Wildwood for 30 years and served as a medical director for eight years.
Nana Yaa Kwarteng, FNP, RN
Nana Yaa Kwarteng is a family nurse practitioner with a special interest in lifestyle medicine and sharing the love of God. She has been involved in teaching and recommending lifestyle interventions to individuals in North America, and Africa. Through her experiences she has witnessed the wholistic healing that God desires to impart to all. Currently she is a part of the medical team at the Wildwood Health Institute.
A New Approach to Practicing Medicine
Tirsa Espinoza, MD, MPH
Graduated from our program in 2018
"I have a new vision, a new calling. It was worth every single penny."
Antonela Arevalo, MD
Graduated from our program in 2021
"I believe that every single physician should experience this program at least once in their life, it's a blessing that will forever change their perspective about Christ´s medicine."
Change the Way
You Practice Medicine
Join Us For the Journey to a Better Practice
Apply Now
Send me the application link.
We will contact you within 1 – 2 business days to discuss your training options.
Reserve My Spot
Send me the application link.
We will contact you within 1 – 2 business days to discuss your training options.
Tell Me More
Send me more information about the Lifestyle Medicine Observer Program.
We will contact you within 1 – 2 business days with more information.
Tell Me More
Send me more information about the Lifestyle Medicine Observer Program.
We will contact you within 1 – 2 business days with more information.